Catherine ARNAUD - Publications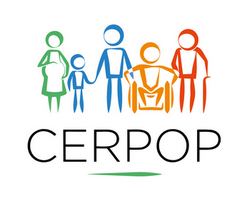 SPHERE - Study of Perinatal, paediatric and adolescent Health : Epidemiological Research and Evaluation
Equipe constitutive du CERPOP, UMR1295, unité mixte de recherche Inserm – Université Toulouse III Paul Sabatier
Catherine ARNAUD • chercheure, MD PHD, Santé publique, épidémiologie

2023
Arnaud C, Ehlinger V, Perraud A, Kinsner-Ovaskainen A, Klapouszczak D, Himmelmann K, Petra M, Rackauskaite G, Lanzoni M, Platt MJ, Delobel-Ayoub M. Public health indicators for cerebral palsy: A European collaborative study of the Surveillance of Cerebral Palsy in Europe network. Paediatr Perinat Epidemiol. 2023 Feb 1. doi: 10.1111/ppe.12950. Epub ahead of print.
2022
Arnaud C. Describing functional skills in children with cerebral palsy close to age 5 years matters. Dev Med Child Neurol. 2022 Dec;64(12):1435-1436. doi: 10.1111/dmcn.15372.
Delobel-Ayoub M, Ehlinger V, Klapouszczak D, Duffaut C, Arnaud C, Sentenac M. Prevalence and characteristics of children with cerebral palsy according to socioeconomic status of areas of residence in a French department. PLoS One. 2022 May 19;17(5):e0268108. doi: 10.1371/journal.pone.0268108.
Groussolles M, Winer N, Sentilhes L, Biquart F, Massoud M, Vivanti AJ, Bouchghoul H, Rozenberg P, Olivier P, Desbriere R, Chauleur C, Perrotin F, Coatleven F, Fuchs F, Bretelle F, Tsatsaris V, Salomon LJ, Sananes N, Kayem G, Houflin-Debarge V, Schmitz T, Benoist G, Arnaud C, Ehlinger V, Vayssière C; Groupe de Recherche en Gynecologie Obstétrique (GROG). Arabin pessary to prevent adverse perinatal outcomes in twin pregnancies with a short cervix: a multicenter randomized controlled trial (PESSARONE). Am J Obstet Gynecol. 2022 Aug;227(2):271.e1-271.e13. doi: 10.1016/j.ajog.2022.01.038.
Le Ray I, Kuhn P, Letouzey M, Roué JM, Mitha A, Glorieux I, Foix-L'Hélias L, Marchand-Martin L, Ancel PY, Kaminski M, Pierrat V; Epipage 2 Neurodevelopmental care writing Group; EPIPAGE-2 Infectious diseases writing group (Arnaud C collaborator). Early skin-to-skin contact and risk of late-onset-sepsis in very and extremely preterm infants. Pediatr Res. 2022 Nov 14. doi: 10.1038/s41390-022-02383-3. Epub ahead of print.
Lorthe E, Letouzey M, Torchin H, Foix L'Helias L, Gras-Le Guen C, Benhammou V, Boileau P, Charlier C, Kayem G; EPIPAGE-2 Obstetric Writing Group (Arnaud C collaborator). Antibiotic prophylaxis in preterm premature rupture of membranes at 24-31 weeks' gestation: Perinatal and 2-year outcomes in the EPIPAGE-2 cohort. BJOG. 2022 Aug;129(9):1560-1573. doi: 10.1111/1471-0528.17081.
McIntyre S, Goldsmith S, Webb A, Ehlinger V, Hollung SJ, McConnell K, Arnaud C, Smithers-Sheedy H, Oskoui M, Khandaker G, Himmelmann K; Global CP Prevalence Group*. Global prevalence of cerebral palsy: A systematic analysis. Dev Med Child Neurol. 2022 Aug 11. doi: 10.1111/dmcn.15346. Epub ahead of print.
Schmidt S, Markwart H, Rapp M, Guyard A, Arnaud C, Fauconnier J, Thyen U, Hahm S, Vidart d'Egurbide Bagazgoïtia N, Muehlan H. Quality of life and mental health in emerging adults with cerebral palsy compared to the general population. Health Qual Life Outcomes. 2022 Apr 2;20(1):61. doi: 10.1186/s12955-022-01961-7.
Simon L, Hadchouel A, Arnaud C, Frondas-Chauty A, Marret S, Flamant C, Darmaun D, Delacourt C, Marchand-Martin L, Ancel PY, Roze JC. Growth trajectory during the first 1000 days and later overweight in very preterm infants. Arch Dis Child Fetal Neonatal Ed. 2022 Aug 25:fetalneonatal-2022-324321. doi: 10.1136/archdischild-2022-324321. Epub ahead of print.
2021
2020
2019
Drummond D, Hadchouel A, Torchin H, Rozé JC, Arnaud C, Bellino A, Couderc L, Marret S, Mittaine M, Pinquier D, Vestraete M, Rousseau J, Ancel PY, Delacourt C; EPIPAGEADO study group. Educational and health outcomes associated with bronchopulmonary dysplasia in 15-year-olds born preterm. PLoS One. 2019 Sep 11;14(9):e0222286. doi: 10.1371/journal.pone.0222286.

Lorthe E, Sentilhes L, Quere M, Lebeaux C, Winer N, Torchin H, Goffinet F, Delorme P, Kayem G; EPIPAGE-2 Obstetric Writing Group (Arnaud C collaborator). Planned delivery route of preterm breech singletons, and neonatal and 2-year outcomes: a population-based cohort study. BJOG. 2019 Jan;126(1):73-8 doi: 10.1111/1471-0528.15466.

Pacoricona Alfaro DL, Lemoine P, Ehlinger V, Molinas C, Diene G, Valette M, Pinto G, Coupaye M, Poitou-Bernert C, Thuilleaux D, Arnaud C, Tauber M. Causes of death in Prader-Willi syndrome: lessons from 11 years' experience of a national reference center. Orphanet J Rare Dis. 2019 Nov 4;14(1):238. doi: 10.1186/s13023-019-1214-2.